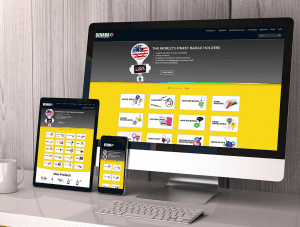 At Devara, the customer comes first!  Our customers demand quality products, quick turnaround times and exceptional customer service.  We hear these things at every show we attend, but it can be difficult to meet these demands, especially in a streamlined fashion.  Our answer? A new and improved website!
Better Product Organization
In this industry, having a quality product can really make the difference, but it can be difficult to find and to know the quality before you buy it.
We, at Devara, have recognized this and taken action.  Through our new and improved website, we have clearly separated products into categories such as "Good, Better, Best Badge Reels", making them much easier to distinguish.  While this is not new to the Devara website, we have made these products easier to search for and more descriptive.  Now customers can easily find what they are looking for and be able to quickly tell the quality of the product.
You Have Questions, We Have Answers
In any industry, customers have questions, but that is especially true in Devara's world.  What size is the product?  Is it anti microbial?  Do you have a similar option with different features?  Enter customer service.  This is, and always has been, a focus for us. Not only do we want to help address your questions, but we want to do it in a timely fashion.
With our new website, it has never been easier to find and contact your rep or a distributor near you.  It can be frustrating to find a product you like only to find out you cannot purchase it on our website, as we sell to distributors only.  Our new "Find Distributor" tool, you can easily type your zip code in and find a location or website near you.  Additionally, if you are a distributor, our updated rep map will help you get in contact with the correct Devara representative.  And like always, our exceptional customer service team is readily available to address any other concerns you may have.
Going Forward
As the industry evolves, so does Devara. Our new website is only the launching pad.  You can expect us to be making improvements and adjustments to the site as time goes on to keep up with the demand of the industry and provide a pleasant and efficient experience for our customers.